I am often asked about many of the home improvement items in our home or where I found them so I put together this product resource page. Please scroll down to see everything from closet organizers, to motorized bicycle storage lifts, to infrared repeaters, to a motorized workbench, to wireless three-way switches, to towel warmers, to our Victorian gas fireplace, and motorized window shades. I have used most of the products on this page, but they might not work in all situations. I have included some videos as well. This page is a work in progress. I also fully support buying products Made in the U.S.A.; the problem is it is hard to find much of anything, especially household products, manufactured in the United States anymore. Hopefully this changes. As advertising affiliates of Amazon, Live Well, Lego, Brookstone, and Modern Modern Bathroom I earn from qualifying purchases.
The refrigerator/freezer combo unit is a Frigidaire Gallery model stand alone fridge and freezer. I believe they now offer similar models in their Professional Series. Kenmore also used to make similar models. A matching trim kit is available to make them look like one unit, but we did not use it because we wanted large cabinets above. Not quite as large as Viking or Monogram units but several thousand dollars cheaper. Our kitchen are was designed with a set up like this in mind, but if you don't have the space the fridge and freezer can be located at opposite ends of an L-shaped kitchen. The Oasis hot and cold water dispenser is on the counter next to the freezer.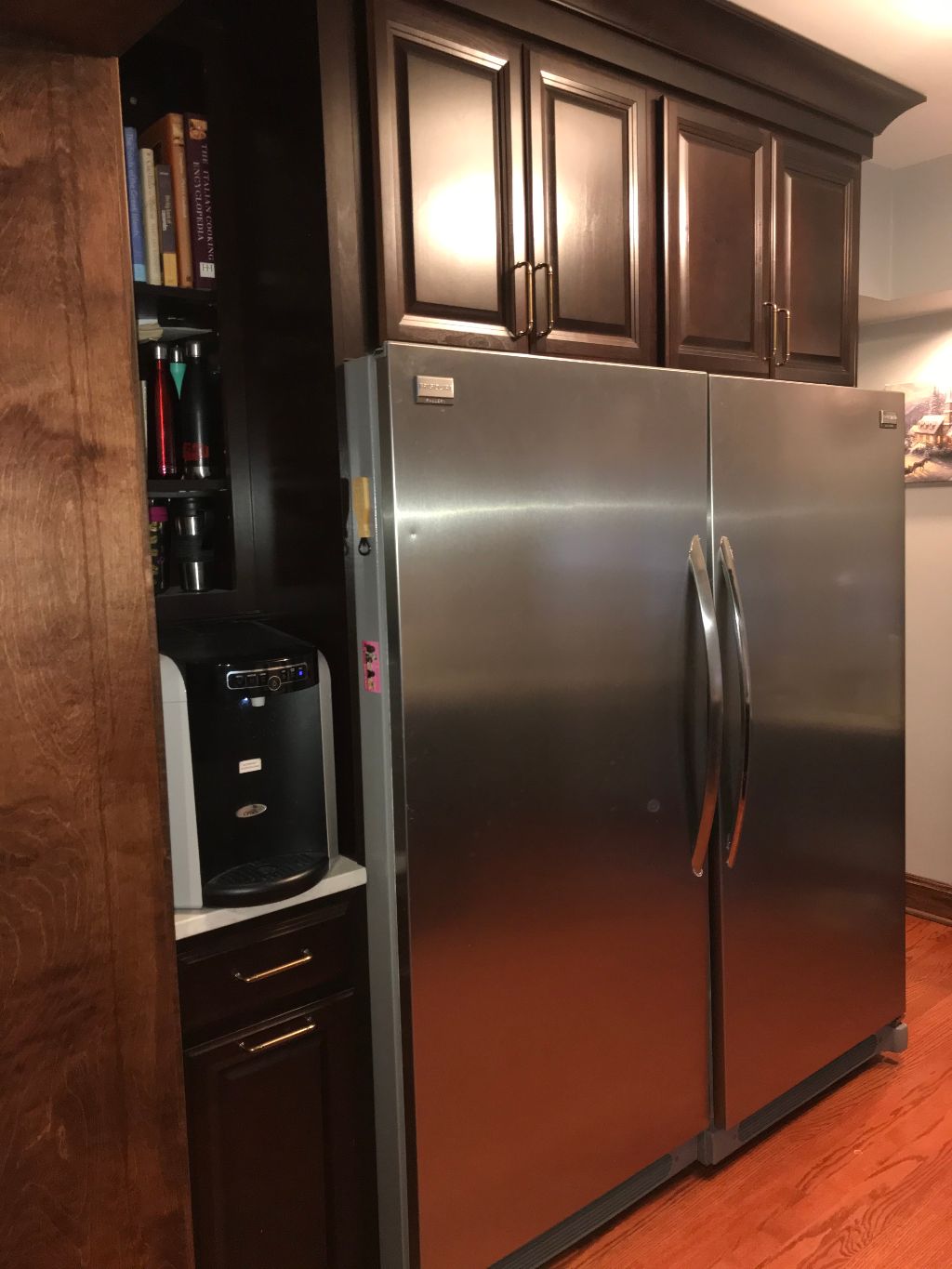 Water Dispenser: Aside from instant hot and cold filtered water, it's great for tea, coffee, hot chocolate, instant soup, and oatmeal. It's a great companion to single-door refrigerators that do not have water dispensers. They connect to the water line from your sink or refrigerator's ice maker water line.
Avalon also makes similar but less expensive models.
These motorized bicycle racks by Garage Gator allow you to suspend up to eight bikes from the ceiling and raise and lower them with the push of a button. They also offer similar products to store other items such as golf clubs, kayaks, Jeep tops, and general storage. Watch this video from my book to see them in action...
Closet Organizer System: We used the Easy Track closet organizer system for our walk-in closet. It was easy to assemble, and the unit hangs on the wall with a metal track anchored to the studs going across the wall. You can hang it as high or low on the wall as needed, and since it does not touch the floor you do not have to cut out the floor's woodwork for a flush fit against the wall. I bought extra shelves and screwed the shelves into the side panels for extra stability. I used the basic starter kit, but other kits are available and they are all customizable with extra shelves, drawers, side panels, and other accessories. I purchased my set from Fox Lumber on Cicero Avenue in Alsip, but if you cannot find these at your home center Amazon sells them. We used the Truffle colored finish.
Motorized Blinds and Shades: We used a Bali motorized roller shade we ordered from Lowe's over the bathtub in the new bathroom to eliminate the need to bend over the tub to pull down the shade. These motorized shades are battery-operated and come with a remote control. The first set of batteries lasted two years. You can also get motorized blinds and Roman shades. Some models can also be controlled via an App on your smart phone. Watch the video below and click here for the link to Lowe's.
A robot vacuum has been a nice convenience, especially in the kitchen for picking up endless crumbs and in the bedrooms for vacuuming under the beds. We have the Roomba by iRobot. They come in a variety of models and prices and be can controlled by an App on your phone. The more expensive models come with better mapping software that lets you choose which room you want to the robot to clean and charging stations with tanks that collect debris from the robot.
Linear Actuators: I bought the linear actuator motors that I used in the ottoman TV lift I built from Firgelli Automation. They have motors and controllers for a variety of automated projects.
Infrared Repeater: If you need to locate your audio/visual devices out of the line of sight of the infrared remote control, as I did when I mounted a DVR inside the ottoman TV cabinet I made, you need to use an infrared repeater that captures the remote's signal and relays it to the device's infrared receiver. The one I used is a simple plug & play setup that controls one device. Other models can control several devices with one IR receiver.
Doorbell and Security Cameras: WiFi doorbell cameras have become very popular because they let you see who is at the front door from literary anywhere in the world using an App on your smartphone or tablet and also record any activity detected by their motion sensors. The line of Ring WiFi doorbells and security systems have become very popular, but if your home WiFi connection is spotty or does not reach through thick walls to the outside of your house where the devices will be located, you might encounter performance issues unless you use a WiFi extender. Even with a WiFi extender, a WiFi camera in our attached garage was always dropping the internet signal. Most WiFi doorbell cameras also only activate and record when motion is detected, possibly causing you to miss important footage at a distance. Though I have not yet tried this brand, I am considering this security camera system by Lorex. It is wireless but uses an RF (Radio Frequency) signal like a TV or walkie-talkie that can travel quite far rather than a WiFi signal. The cameras come with rechargeable battery packs so no electricity is needed. However, with this set up the cameras will only activate when motion is detected, like the doorbell cameras. On the plus side, if you have access to electrical outlets near your cameras, either inside our outside, you can purchase power cords that let your cameras stay on and record 24/7 onto a large hard drive. This system also connects to your Internet modem so you can view your camera signals and recordings on your smartphone or tablet from anywhere in the world. This system also allows two-way audio communication like many doorbell cameras.
Under- the-Cabinet Tablet Mount: Mounting your iPad or other tablet onto a swing arm under your cabinet is a great convenience. Whether you are looking up recipes while cooking, listening to your favorite play list, or monitoring your doorbell or other security cameras, the tablet will be at your fingertips without being in the way. Make sure you find a mount that fits your cabinet trim and tablet size.
Mixer Lift: Kitchenaid mixers are versatile appliances, but they are heavy and take up a lot of room. Lift shelves like the ones below are a heavy duty mixer stand and lift that stores your mixer under your counter then swings it up and out when you are ready to use it. If you are trying to save money or want a custom top that matches your countertop, Rev-A-Self also sells just the bracket that you can add your own shelf top. Check your measurements to make sure you have the right size cabinet width recommended by the manufacturer and the shelf lift you purchase will also fit your model and weight of mixer. I cannot attest to these models, but Rev-A-Shelf is a popular brand. The price of the Rev-A-Shelf lift below is typically around $284.
Wireless Three-way Switch: Put a three-way switch in just about any location with a wireless remote control switch like this one from Lutron. The main switch replaces a standard light switch, and the remote switch can be mounted anywhere. A trim plate makes the remote switch look like a regular wall switch.
Motorized Adjustable Workbench: I wanted a workbench for our hobby room that was easily adjustable from desk height to counter height and usable for children and adults. I had seen adjustable desks and computer stations but nothing with a rugged workbench top. I purchased a motorized frame like the one below my daughter is demonstrating in the video and attached a butcher block top from Home Depot that I cut to size and stained, then attached to the motorized frame. This is not meant to be used as a heavy duty workbench but more as a hobby bench. Different models and sizes are available, and some come with a desk table top. The frame below has an adjustable width to accommodate a top from 45-87 inches wide and adjusts from about 28 to 47 inches high. The second model is a different size and comes with a desk top. Do not exceed the manufacturer's recommended weight limit.
Bathtub and Fixture: The air jet pedestal bathtub and faucet with handheld shower came from Signature Hardware. They have a full line of classical and modern kitchen and bath fixtures and accessories as well as lighting and hardware items.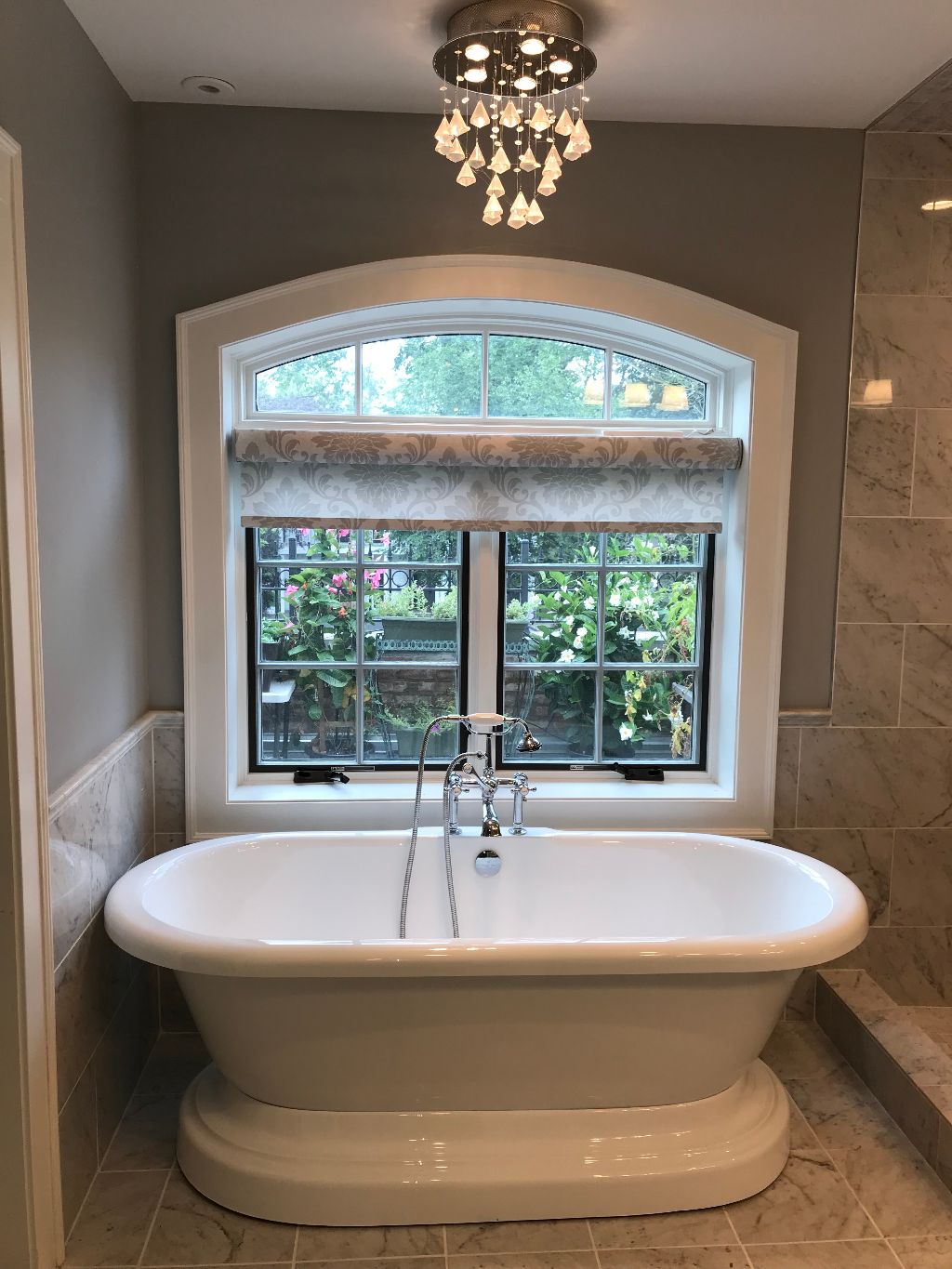 Towel Warmer: The Runtal towel warmer below was featured in my book. We used the hydronic (hot water) model. It throws a great deal of supplemental heat as it acts as a radiator as well as a towel warmer. They also help dry the towels faster after use. You need to tap into a source of hot water heat from a boiler used for radiators or radiant floor heat so these models are usually planned for new construction or a major renovation. We tapped into the hot water for the new radiant floor heat when our addition was built. Otherwise, you can buy the electric model that has to be hard-wired into an electrical box behind the wall. The electric models don't through as much heat as the hydronic models, but they can be used year round with the flip of a switch. The hydronic models only work when the boiler heat is on. I also used a thermostatic valve on our unit to precisely control the heat. Both models come in different sizes and colors. Our unit is 46" high by 30." Visit Runtal of North America for these quality towel warmers and European-style radiators and wall panels. Electric canister models like the Zadro model below sit on the floor and work very well as they envelope and soften towels and bathrobes as they warm them.
Victorian Gas Fireplace: The Portrait Windsor Arch gas fireplace with simulated coals by Valor was the perfect fit for our antique Victorian marble surround. We had the marble cleaned and repaired, and I built the framing behind the wall for the surround. The Victorian style was hard to find but allowed us to maintain the look of the marble fireplace while adding a beautiful yet functional fireplace to our new kitchen. We added a blower, but the fireplace works so well the blower is turned off. This is not a vent-free fireplace. The unit was vented up through the roof of our addition. We purchased ours from American Heritage Fireplace in the Logan Square neighborhood because they had one on display. For more information about the fireplace visit American Heritage or check out the Valor website here.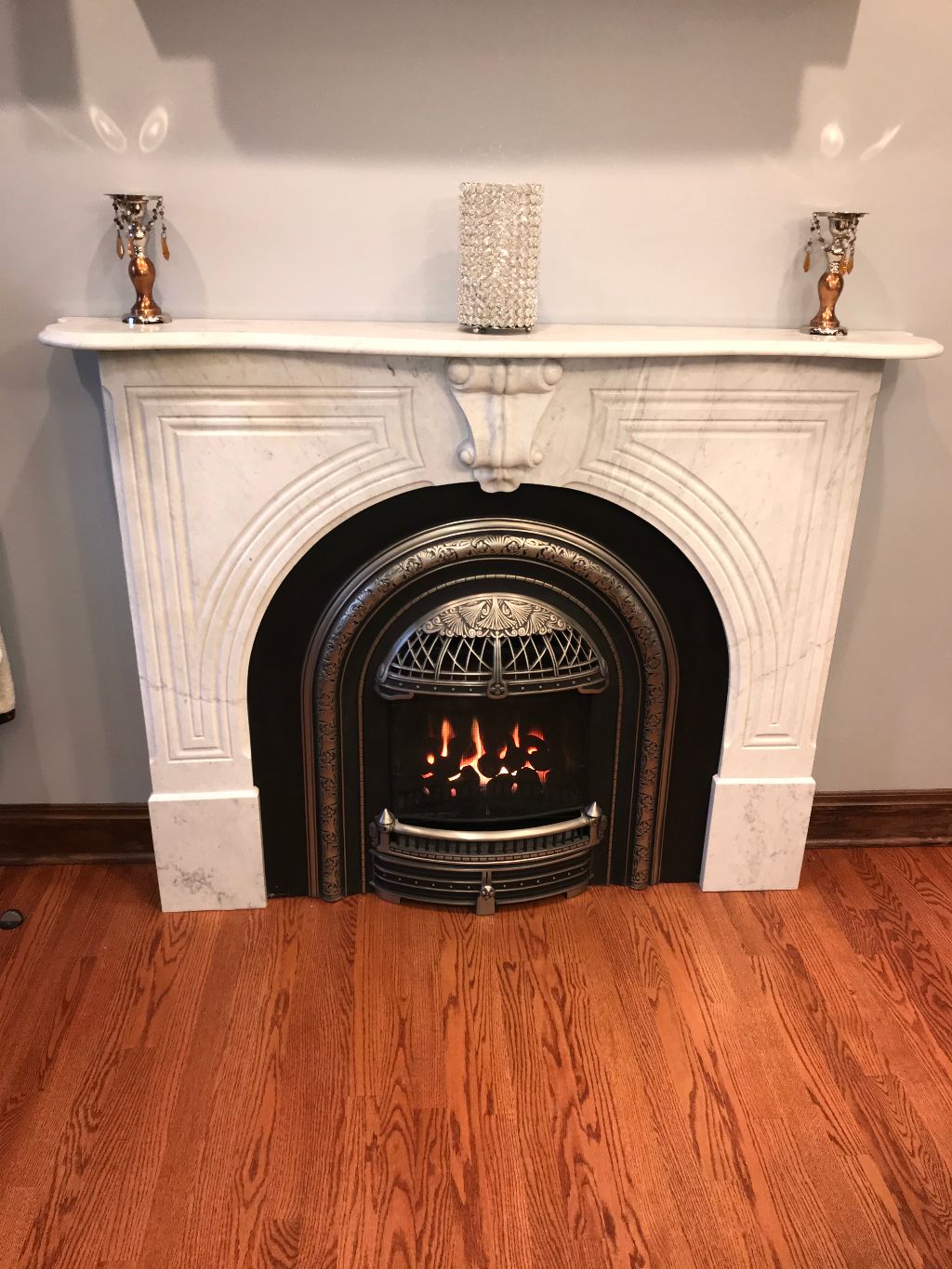 Antique Hardware: For restoration projects or just a classical look, The House of Antique Hardware has a full line of new but antique-styled reproduction hardware items including, plumbing and lighting fixtures, door and electrical hardware, and other items. Antique stores are also always a great place to search for items that can be reused. Salvage One in Chicago is a treasure trove of doors, windows, mantles, built-ins, and other hardware that have been salvaged from homes and buildings that were torn down. We bought several 1920s-era single panel doors there for our addition that were an exact match to the existing doors in our home.